June Executive Director's Greetings
"When we give cheerfully and accept gratefully, everyone is blessed." -Maya Angelou
You may be seeing the "NH Gives" notices on television, and wondering about how you can give and to which organization(s) you would like to offer your financial support. NH Gives is a 24 hour long, online blitz opportunity to support non-profit organizations that pique your interests. Starting at 6 PM, Tuesday, June 11, and concluding at 6 PM Wednesday, June 12, you can make your donation to your "Lamprey River Watershed Association" so we can continue to grow our work and blossom by offering you more workshops, presentations, newsletters and volunteer training events. I hope you will consider the Lamprey River Watershed Association, and go online, "nhgives.org" and by following their clear instructions, make your donation and through that, we'll feel your support and work hard to fulfill your expectations!
These three photos show a little bit about what we've been up to in April and May. Pictured, Dick Lord, Durham resident and long-standing representative to Lamprey River Advisory Committee (LRAC) holds up a large honeycomb that was part of the presentation by Martin Marklin, on beekeeping and how bees are vital to our food system and healthy environment. This was at the Newmarket Public Library, and attendees also learned about bees, from as early as the fourth century. Dick's interest and support of "all things Lamprey" is also evidenced by his many photographs and graphic design and layout work on many informative kiosks near the Lamprey.
Also pictured, a glimpse of the way the NH Fish and Game officers are actively promoting the Lamprey's health, with moving herring along the river, from Newmarket's fish ladder to other locations to help mingle with other fish pathways. About three thousand herring were moved on one Saturday from this site in particular, and people came from five towns to see the work in action. The Lamprey attracts people who enjoy watching this type of action on the river as well as action in their canoes or kayaks, or hiking or birdwatching, among other hobbies. Your donation to NH Gives can help us promote more events, similar to this, along the Lamprey's forty-nine mile flow to Great Bay.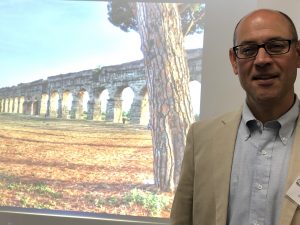 The third photo is of Paul Susca, NH Department of Environmental Services, who offered attendees to his presentation in Durham, ideas about what a safe drinking water lab report should look like, and what different parts of a lab test show about well water. Mr. Susca brought the most up-to-date information to attendees during a water quality presentation at a conference at Plymouth State University, and following that, LRWA was happy he accepted our invitation to make a similar presentation to residents in our catchment area.
We are in the midst of preparing a symposium for Autumn, to bring professional speakers together for presentations and ample Q&A time for attendees to learn more about specific topics related to healthy water and healthy eco-systems supported by the river as it flows to the Great Bay. This Symposium is made possible by a grant we were awarded by the New England Grassroots Environmental Fund! We'll let you know more as the program is developed. Also, mark your calendars for our Annual Meeting, October 16, at the Grange Hall in Lee, NH. For this event, we have lined up Sherry Godlewski, Resilience and Adaptation Manager, NH Department of Environmental Services, as our keynote speaker. I hope you will be a part of these, and many other events related to the Lamprey, this year.
Healthy recreational opportunities are vital to our health and well-being and we're proud to be involved with the Summer Camp Week in July that Seven Rivers Paddling and Rivers for Change have teamed up to offer. These organizations are bringing the kayak experience to a group of area middle school students, repeating a program they conducted on the Truckee River in California last year. The LRWA is sponsoring two campers participating in this exhilarating experience – your support during NH Gives can help us expand our outreach to area residents for this and additional programs to help people get out on the water.
Pick your favorite spot, or explore and find new ones, as you see what the Lamprey River has to offer us. The river is rich with history, and there are many organizations who support its history and recreation from Northwood to the Great Bay. We're looking forward to connecting in many more ways with as many individuals, groups and organizations, to keep the Lamprey clean, safe and enjoyable for years to come. Thanks, in advance, for considering donating to LRWA, during NH Gives June 11-12, 6 PM to 6 PM, and we're looking forward to meeting as many of you as possible in the coming months!
Warm regards,
Cris Blackstone, Executive Director, Lamprey River Watershed Association
Follow LRWA on Instagram with lampreyriver or on Twitter @LRWA.
Download a PDF of our Fall 2018 Newsletter:
Imagine A Day Without Water!!!
Imagine a how difficult it is to not have access to not only clean water but any water at all! How can you save water? Download our tips.
Conserving Water at Home – Tips from LRWA
Reflections on a River – 30 Years of Protecting the Lamprey River
See how our story began and view other videos on our YouTube channel.
LRWA
The Lamprey River Watershed Association (LRWA) was formed in 1983 to promote the restoration, conservation, wise development and use of the natural resources of the Lamprey River Watershed. Conserving fish and wildlife, forests, soil and water resources along with pollution abatement are key goals of the Association. Through education and research, the LRWA will work to increase the understanding among citizens about the importance of water and land conservation in the watershed.
The Lamprey River Watershed Association works in partnership with other conservation organizations and citizen groups to maintain or improve the natural health and beauty of the watershed. The Lamprey Watershed Association, Inc. is a non-profit 501 (c) (3) organization.
LRWA Board of Directors – meetings are on the second Monday of each month at 5 pm at the Lee Safety Complex. Public welcome. Prospective board members encouraged to contact LRWA at volunteer at lrwa-nh.org. All skills can be put to good use helping to make our watershed sustainable!